Great to have you on board. You cannot see it, but we are waving. 👋
We hope that Vizzlo will help you to make your presentations and reports better, enriched with beautiful charts. Vizzlo works on any operation system and this article gives a brief overview of Vizzlo's functionality and our main pages.
What is Vizzlo?
Vizzlo is a free chart maker to create beautiful visuals for your presentations and reports. It does not matter which operating system you use or which presentation software your company uses. We want to make easy and fast to create visual content with a brand-compliant designs.
The typical workflow from a user perspective is shown below:
Select the type of visual you need

Edit or import your data

Style & annotate

Export and use

We offer a desktop app too, which you can download from the Microsoft store, or Mac App store. Vizzlo's desktop app allows you to work offline.
If you are using the desktop app for Windows, there is a native add-in for PowerPoint included that allows you to create and edit Vizzlo charts in PowerPoint. Make sure to read our introduction to Vizzlo's Desktop app. For a hands-on introduction, read Getting started - a first chart.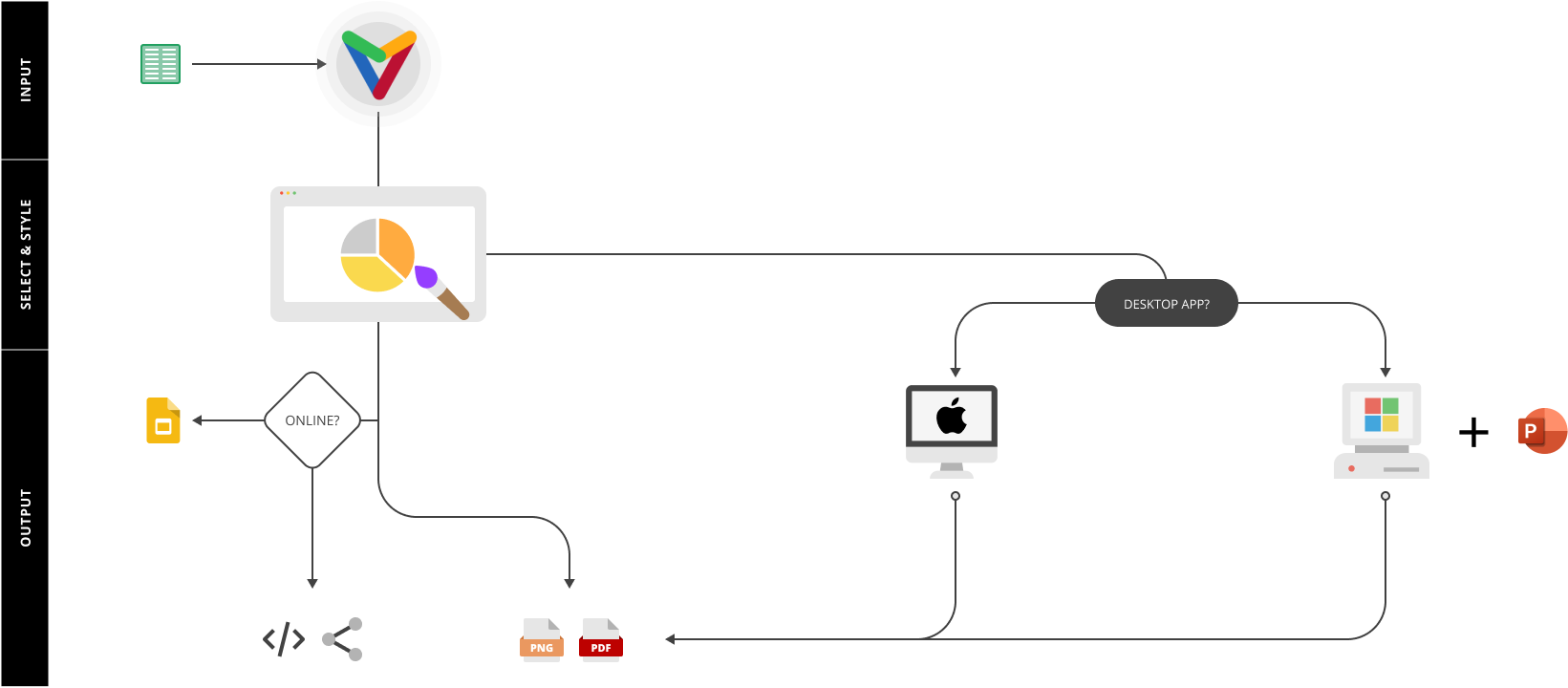 Dashboard
The first screen you saw after you logged in was this one: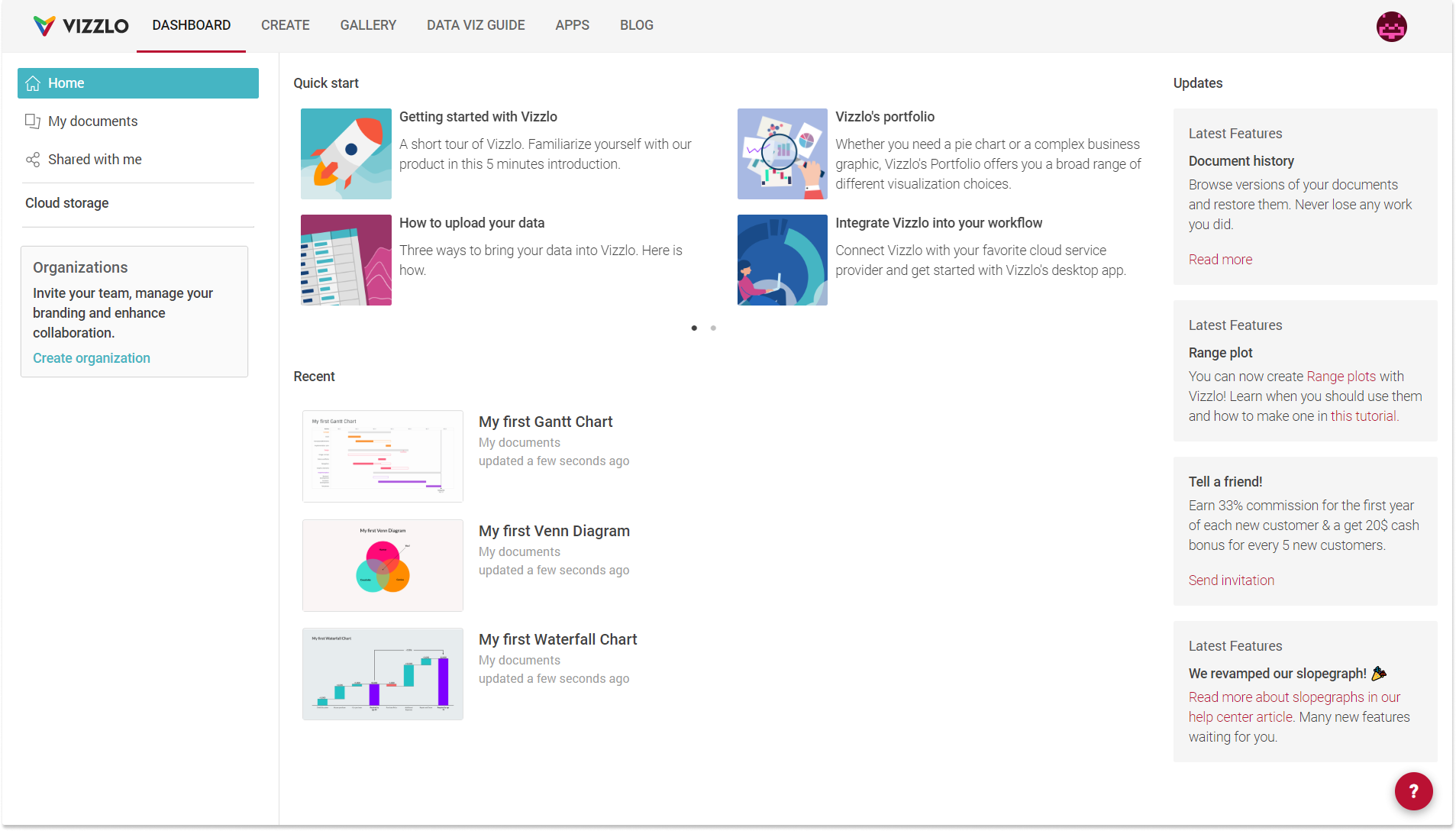 We will call this home screen. Here you'll find the documents you had recently created or edited. Although you haven't worked on a document yet, we added three charts for you to give you something to play with. Click on any of the charts listed under Recent to open the document editor.
Under Quick start on top, you will find links to help center articles that should get you started. You can hide the Quick start section from the home screen. Once hidden, this section will not come back. You still have the option to go to Vizzlo's help center at help.vizzlo.com.
At the right site we will notify you about product updates and special offers.
Menu bar
In the menu bar you find seven options.
Vizzlo Logo — Click on the logo, and we will bring you back here, in case you got lost.

DASHBOARD

— Here you find all your work. You can create folders to organize your documents.

CREATE

— This will bring you to our portfolio. Browse over 100 charts or type what you look for into the search bar.

GALLERY

— We create gallery post every week. Browse the example to get inspired.

DATA VIZ GUIDE

— Here you can find some more articles about data viz topics.

APPS

— Vizzlo works not only in the browser, but we also offer a desktop app too. There are also integrations for Microsoft PowerPoint and Google Slides. Click on APPS to find out more.

BLOG

— Here we write about our company from time to time.
In the sidebar on the left we list:
My documents — Your personal documents and folders.

Shared with me — Documents that have been shared with you by others.

Cloud storage — Quick access to connect to your favorite cloud storage provider.
Once you are part of an organization, another entry is listed under Cloud Storage. This will be the name of that organization. We will list all teams and documents that are created as part of this organization.
Create a new chart
When you click on CREATE in the menu bar, you will be directed to Vizzlo's portfolio. This is the first step to a new document. Vizzlo offers you a selection of +100 business charts and graphics. Type in the search field what you are looking for.
When you click on the CREATE button the document will be saved under vizzlo.com/documents, i.e. the root folder of your dashboard.
You can find chart specific tutorials here.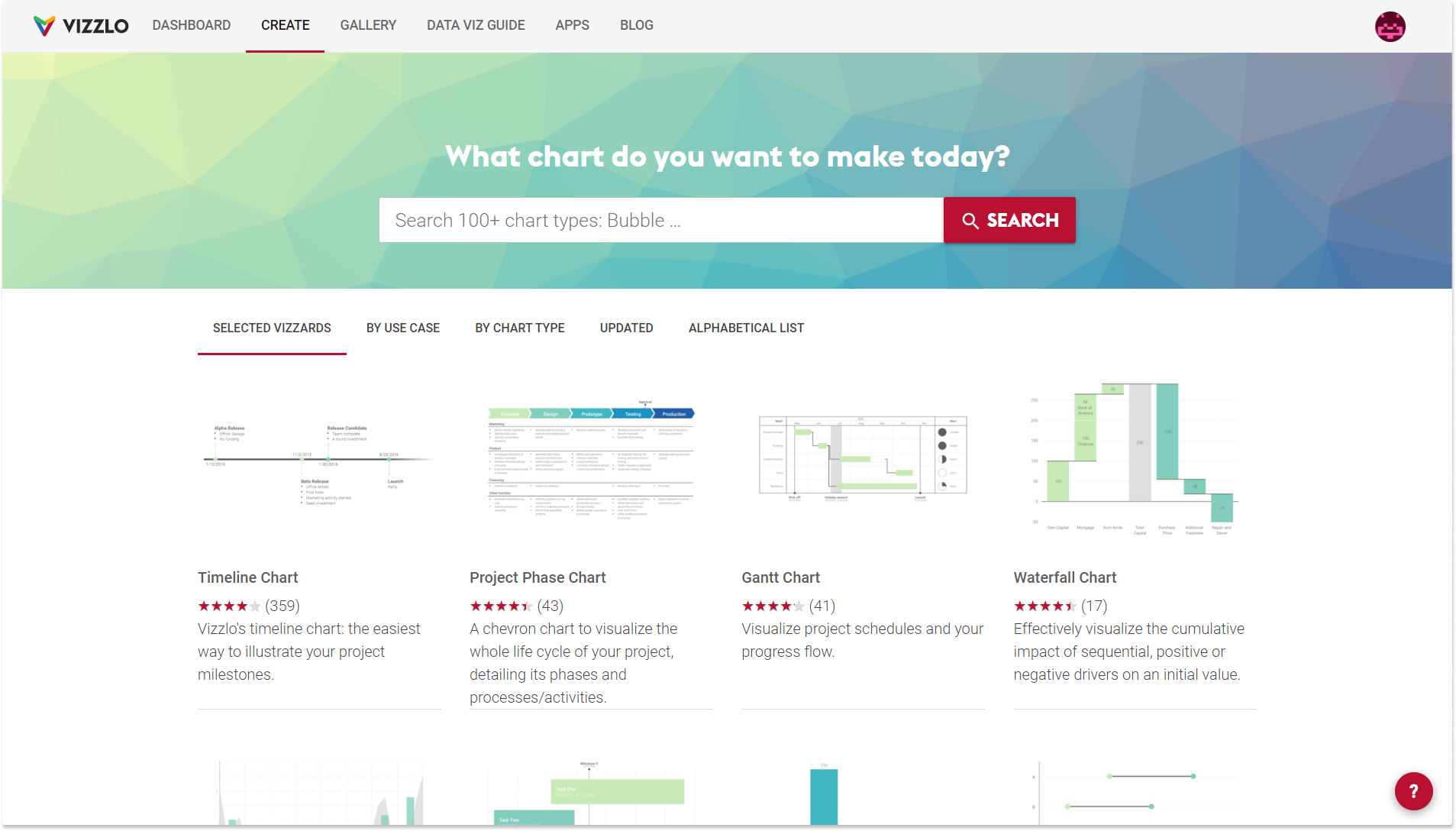 Structure your work
After you navigated to My documents, there is the possibility to create new documents and folders. Documents and Folders and can be moved either using drag and drop, or after a right click using the option Move to folder.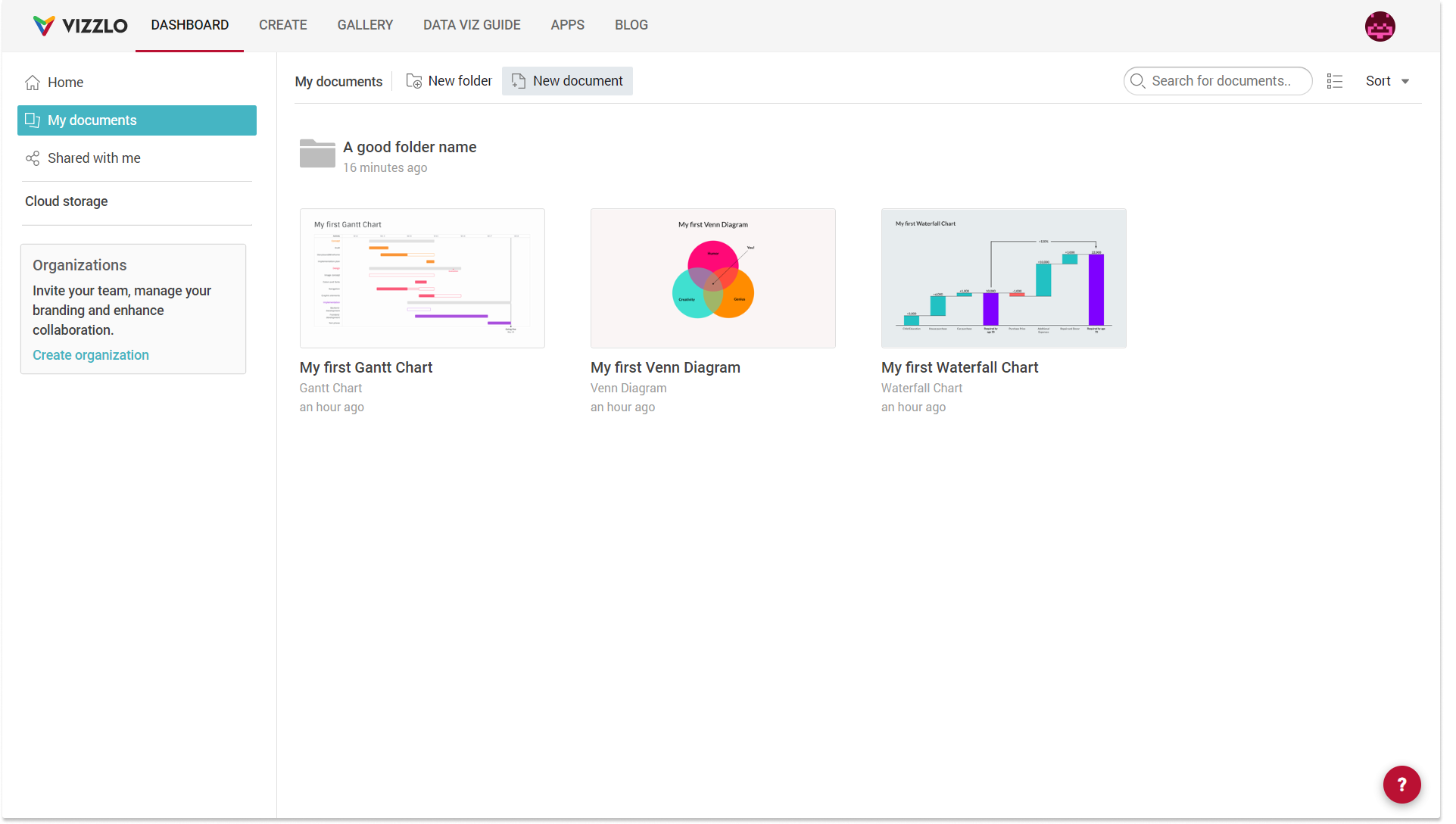 Gallery - get inspiration
Go to our gallery and browse example charts. We update our gallery on a regular basis. You can use any of the charts, simply click on the Create a XY chart like this button and a copy can be found in your dashboard.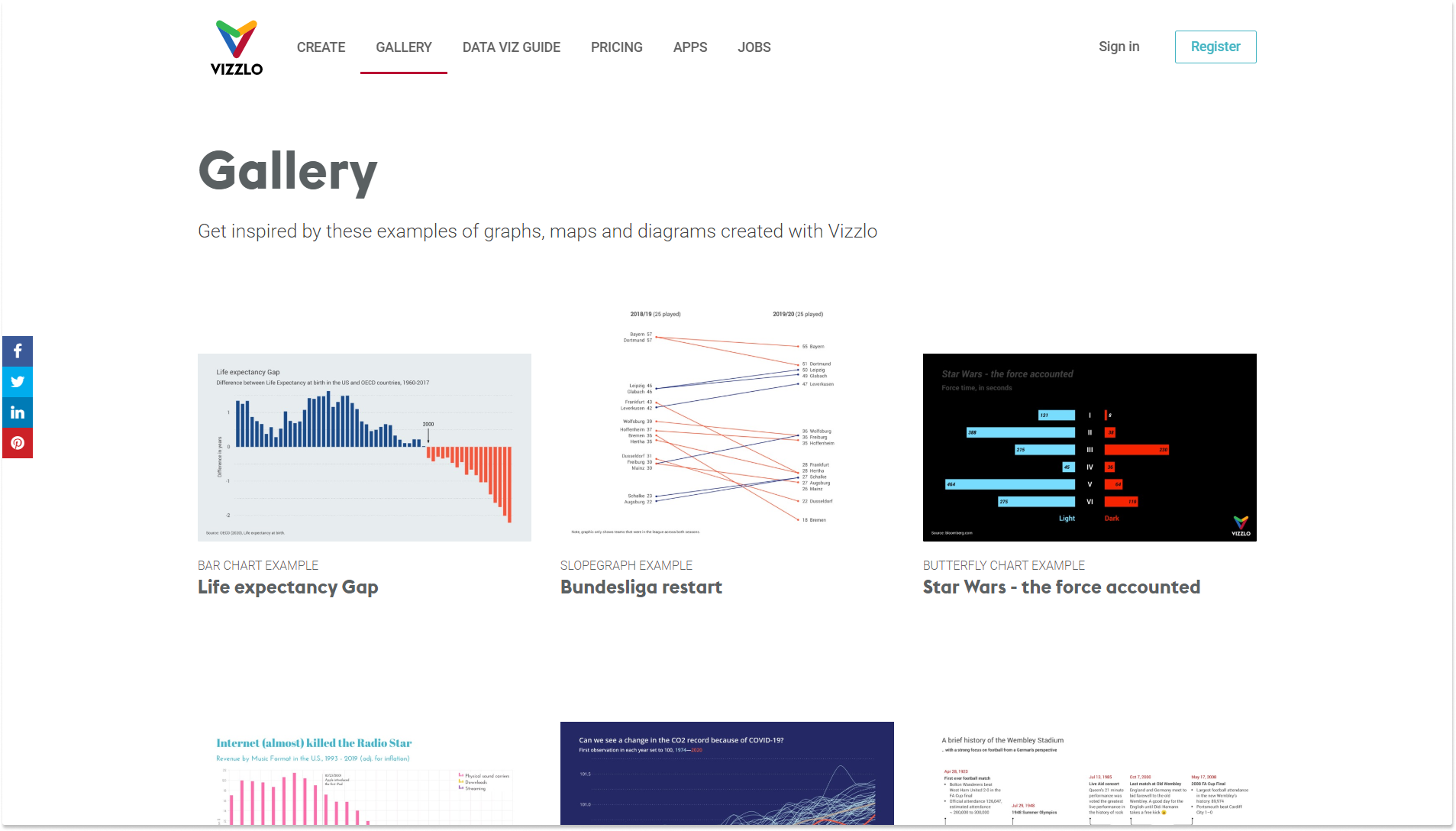 Get help
We have prepared a number of articles that should make it easier for you to use Vizzlo. We are always adding new articles and updating existing ones. Go to help.vizzlo.com or
— click on the `?` button in the bottom right
— click on your avatar to open the user menu
If you don't find what you are looking for, you can always ask a human. We are there for you when you need us.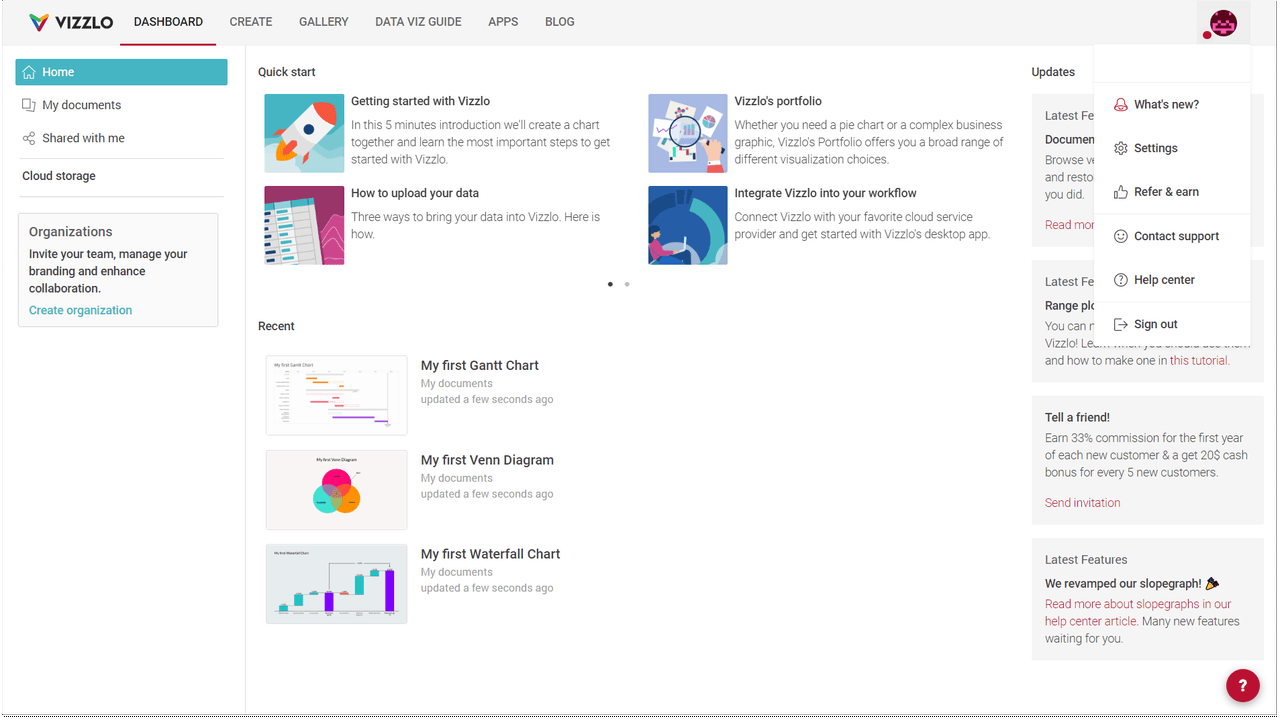 Product updates
Here you can see our latest improvements: vizzlo.com/changelog