Choosing the "right chart type" is not only a question of right or wrong. Some datasets can be explored in many ways through visualizations. The first questions you should ask yourself are: what message do I want to convey? Do I need a data-driven visualization or a concept-driven one?
Data-driven visualizations
If you need data-driven visualizations, think about what aspect of your data would you like to highlight in your chart:
One of the most popular illustrations for this scheme is the "Chart Chooser Diagram," designed by Andrew Abela. It is available to download as PDF on his blog "The Extreme Presentation Method," which is full of handy tips for preparing presentations.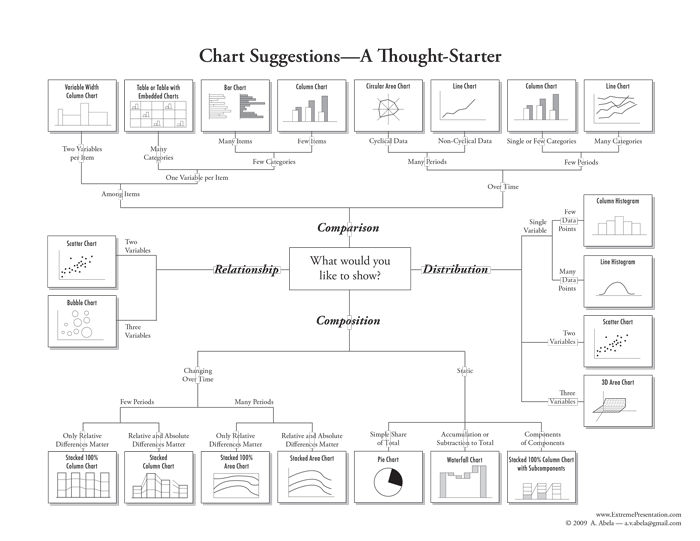 Concept-driven visualizations
Concept-driven visualizations are perfect to summarize, organize and illustrate complex concepts, simplifying their communication and making them more comprehensible for your audiences. These visualizations also have a strategic meaning: they serve as a means of documenting processes and structures and facilitate decision making.
Tip: Normally, you can fit your answer into more than one category, and many times the charts serve more than one purpose. Focus on your primary objective and remember: make it simple and keep it readable! The vizzards are already designed to impress.
The Vizzlo blog will deal with the different chart types, helping you to get familiarized with their characteristics. You will soon realize that "charting" is not complicated but fun. So, keep calm and chart on!