Comments take collaboration to the next level. You can make notes, mention others, and respond to feedback. All threads will be saved as part of a Vizzlo document.
Before we start: comments is a feature only available for our Teams Plan. That is, comments can only be added to Team's documents.

Add a comment
Comments can be added in any team document after you right-clicked on the canvas.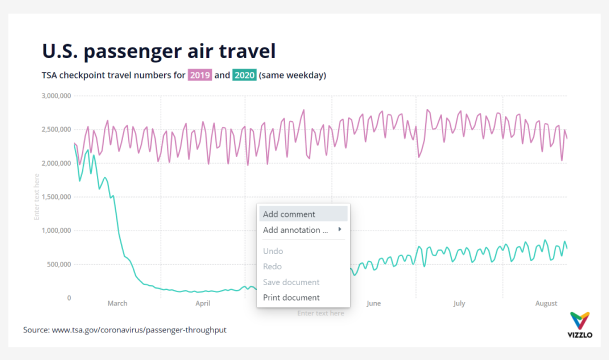 Click on Add comment to open a dialog.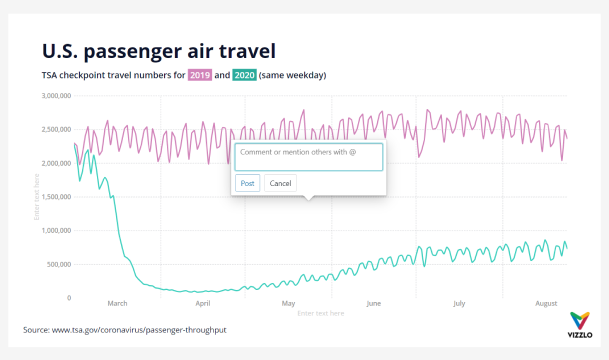 You can mention other team members typing @. A selection menu will open from which you can pick any name.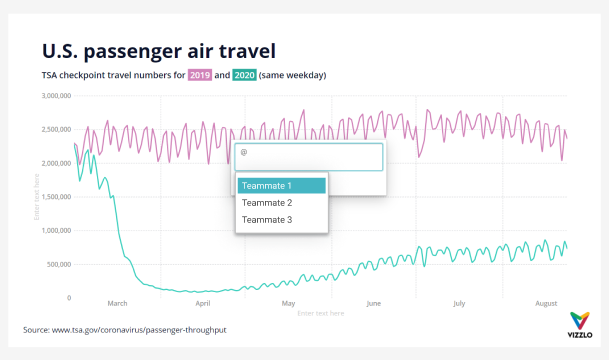 A team member that was mention in a comment will receive a notification about this via email.
Edit comments
You can edit the content of any Comment you've posted. This is handy if you've noticed a type, or want to add a clarification or mention others.
Select the comment in the canvas
In the sidebar, click on the three dot menu (...) next to the comment





Click on Edit, to, well, edit the comment



Click Edit to save your changes.
Move a comment
When you add a comment to a document it will be placed at the center. You can simply drag it to another position with your cursor. Note: you can only move the comments left by you to another postion.
Delete a comment
You can also delete any comment you posted. If you delete a comment with replies, this will delete the entire thread.
Select the comment in the canvas
In the sidebar, click on the three dot menu next to the comment
Click Delete