Vizzlo Charts and Business Graphics is a practical add-on for Google Slides™, made to increase your productivity and enhance your presentations.   
Why you should try it:
It saves time 
Visualize all your documents in the sidebar and add them to your presentation with a mouse click (no need to export or drag and drop them, switch tabs, etc.).
Update your slides at the click of a button, synchronizing your Vizzlo documents with their latest version on your account.
It gives you flexibility and makes more comfortable to edit and revise a chart
If you need to create a new visualization, by clicking "New Document," you will be lead to Vizzlo's Portfolio on a parallel tab to create the Vizzard you need.
Editing an existing document is as easy: if you choose to edit any document from the sidebar or already inserted into your presentation, you will land directly on the Vizzlo editor. After doing the changes, all you have to do is to refresh your slides.
It enhances your teamwork and the information flow
From the sidebar, you can easily visualize and add documents that were shared with you. If you add one of these documents to your slide deck and a colleague edits it, just refresh your presentation to get its latest version promptly. 
How to install it:
Vizzlo for Google Slides™ is free to install. Once you connect the add-on with your Vizzlo account, you will be able to use all its features according to your subscription plan.

Follow these easy steps to enjoy Vizzlo directly inside Google Slides™:
Click on "Add-ons," and then on "Get add-ons."
Type "Vizzlo" in the search to find it immediately. Or browse the store to discover it among other add-ons. 
Click the button "Free" to install Vizzlo's add-on.
A message bubble will appear under "Add-ons," showing where to find your new Vizzlo add-on.
Click on "Vizzlo Charts & Business Graphics" > "Insert a document" to initialize the sidebar. 
Connect the sidebar with your account. Now you'll be able to navigate through all your Vizzlo documents inside Google Slides

™

.
Using the sidebar:
Navigation
You can easily navigate through your documents, your shared documents and your folders using the sidebar and its both tabs "MY DOCUMENTS" and "SHARED WITH ME."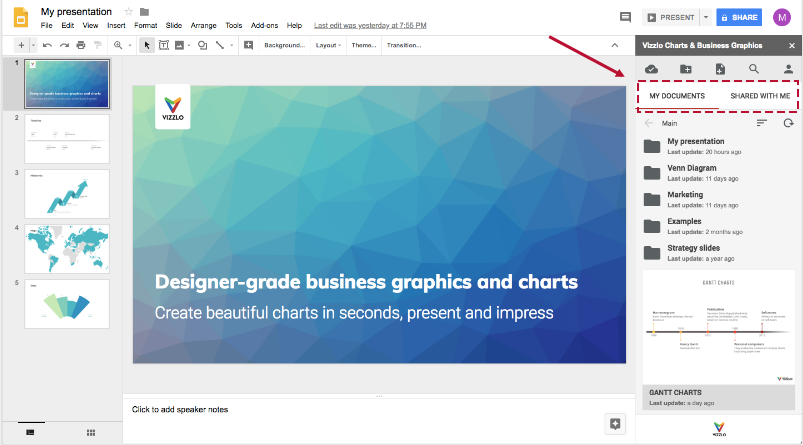 Inserting a document
Click on any document to select it. Click on the blue arrow to insert it into the document. Or click on the pencil to edit it before.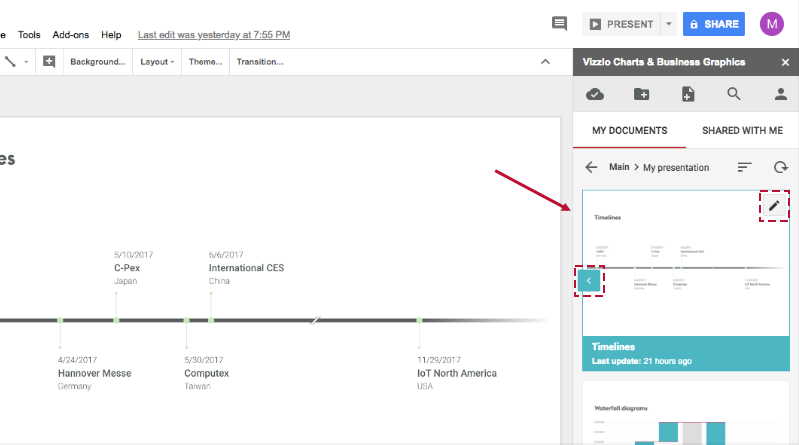 After editing or creating a new document, always click on the "Update your document list" button to refresh your sidebar.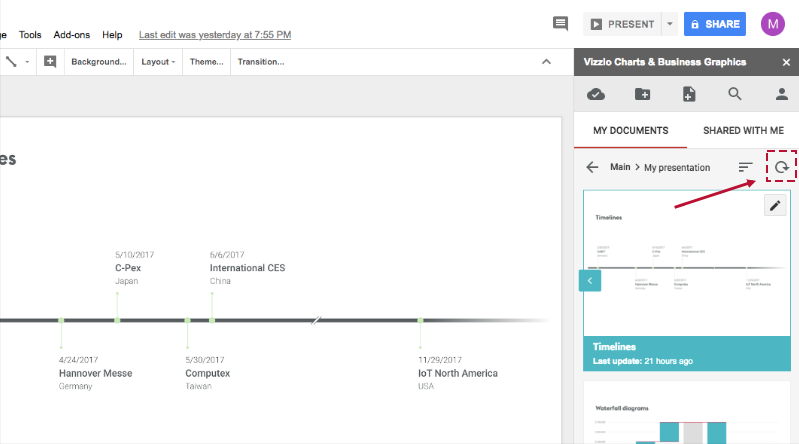 Create a new document 
To create a new document, click on the "New document" icon on the top of the sidebar.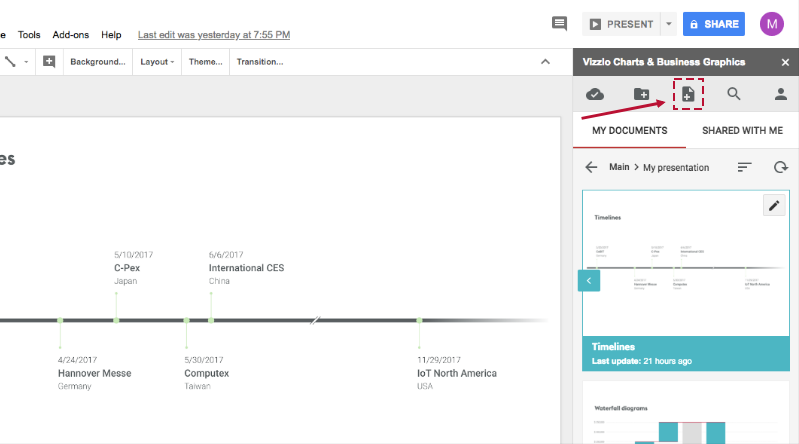 Bring your presentation up-to-date with a mouse click
To refresh all documents that you've inserted into your presentation, click on the cloud icon ("Update all inserted documents") on the top of the sidebar.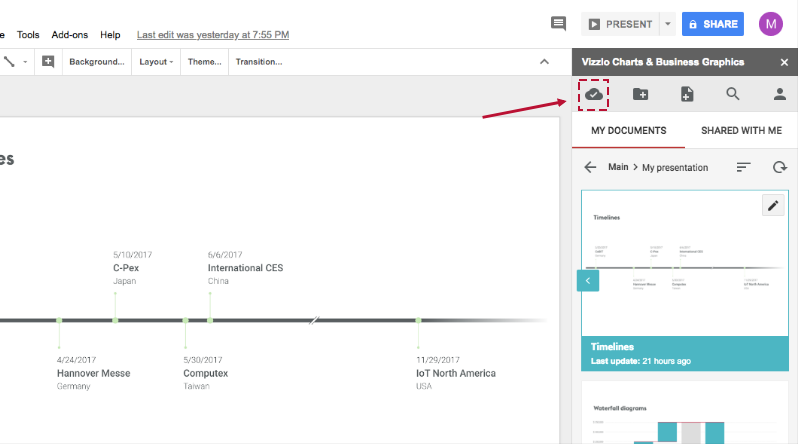 Click here to get started: bit.ly/Vizzlo4Slides
Present and impress!