What chart-specific features are available in Vizzlo
Chart additions are some of our favorites features in Vizzlo. They will surely enrich your chart and are useful to perform quick calculations, comparisons or simply to highlight something special to your audience.
These available elements vary according to the chart you're working on and are accessible by clicking on the

button on the toolbar: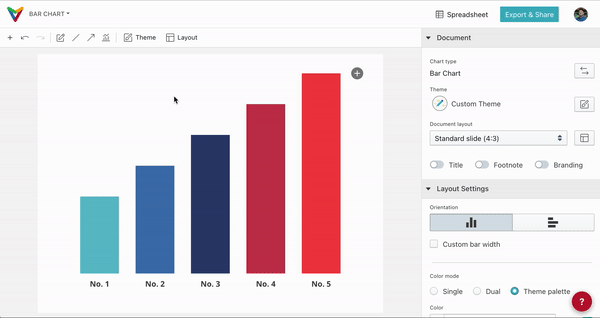 After the inclusion, you can easily customize the element's settings by clicking on the element and using the sidebar. In the example above, the way of calculating can be changed, as can the amount of intervals and, of course, the way it looks.
List of chart-specific features
These are the chart-specific features currently available in Vizzlo:
Benchmark
Overlay arrow
Level difference
Projection
Reference line
Shade
Difference
Top arrow
Trendline